sat02mayAll DayThe artistic director Maurice Steger presents the Recorder Festival Stockstadt 2020Greeting from the Recorder Festival Stockstadt am Rhein (DE), Altrheinhalle
Event Details

Maurice Steger | recorder & artistic direction
Michala Petri | recorder
Flautando Köln | recorder quartet plus percussion
Tabea Debus | recorder
Andrea Buccarella | harpsichord
La Ritirata | Ancient music Ensemble Madrid
Ensemble Caprice | Baroque orchestra Montreal
4 Times Baroque | Baroque ensemble
Ensemble Eurowinds | Dorothee Oberlinger, Michael Oman, Maurice Steger, Olga Watts, Mauro Valli & Daniele Caminiti

***

postponed to 2021 

It is with a heavy heart that I have to inform you today that we will not be able to hold our festival around the recorder and its music in May 2020. I am sorry to inform you that none of the planned events can take place.

We will try to postpone the whole festival programme by one year, and I would also like to stick to the great performers and programmes. So: the new dates are 13-16 May 2021 at www.blockfloetenfesttage.de ! 

***
Welcome to the Stockstadt Recorder Festival!
We are pleased to present to you the 35th edition of this unique festival – which takes place 21–24 May 2020 – during which the flauto dolce takes centre stage, and we invite you to enjoy a few unforgettable days in Stockstadt.
In 2020, this tradition-rich event will once again be playing host to seven concerts, the master class and music trade fair. We would also like to invite you to join us once again on Thursday afternoon and play with Stockstadt's large recorder orchestra in a pre-festival warm up at the Altrheinhalle concert venue.
As usual, the music festival starts on Friday with the master class – and we are very happy to be joined this year by several lecturers who shall be instructing soloists as well as the audience. In 2020, grande dame Michala Petri invites you to a thrilling presentation open to all. This will be followed by the music trade fair, the most prestigious fair in the field of recorders and Early Music. The trade exhibition, which is just as prolific as last year's, enjoys international renown.
We are expecting plenty of renowned recorder makers from Europe and overseas, publishers, music store representatives and producers. We can't wait to see the exhibition hall decked out in vivid colours. You now also have the chance to test instruments in a separate room, enjoy a few minutes of calm and focus on the instrument's tonal qualities. We are happy to tell you more about this facility on the day.
In our series of seven concerts, you are cordially invited to revel in a multifaceted experience which showcases Early Music and unusual recorder sounds.
The opening concert of the 2020 Recorder Festival represents a carte blanche for grande dame Michala Petri – we are looking forward to baroque, romantic, modern and contemporary works as well as a number of interesting types of recorder which underscore the diversity of styles.
Together with her long-term musical partner on guitar, Lars Hannibal, Michala Petri will be putting together a repertoire of some of her very favourite works especially for the Stockstadt Recorder Festival.
Cologne's recorder quartet Flautando Köln will be performing the Friday evening concert with a new line-up (Susanna Borsch, Susanne Hochscheid, Kerstin de Witt & Ursula Thelen) and the percussionist Peter Kuhnsch. They will be playing their wonderful programme titled 'Heimat', or home. It's all about celebrating a feeling of home that knows no borders, be they spatial or temporal. From Johann Sebastian Bach and Erik Satie to Turkish and Danish folk melodies.
I'm excited and extremely pleased to be continuing the series featuring international prize winners from the field of early music such as the recorder and have invited two outstanding talents to Stockstadt: the German recorder player Tabea Debus and the Italian harpsichordist Andrea Buccarella. On Saturday at 11:00 am, we will get to hear works by Bach and Telemann, but also brand new compositions commissioned by Tabea Debus and now performed in the Altrheinhalle.
The acclaimed Ensemble Caprice is returning to Stockstadt, this time with richly coloured instrumentation including trumpets, strings and a singer, all under the baton of the recorder and traverso flute player Matthias Maute. In their new programme, titled 'Landleben', the musicians from Montreal present an insightful musical story with vocal and instrumental gems from the 17th and 18th centuries. Pastoral delights on Saturday at 4:00 pm.
Let yourself be transported back to the early 18th century and the city of Naples, to the sensuous sounds of the Madrid-based La Ritirata ensemble (founded just over 10 years ago by cellist and ensemble leader Josetxu Obregón) and to a fantastic musical world full of excitement, surprises and sheer beauty. The audience will also get to hear the recorder player Tamar Lalo and the master violinist Hiro Kurosaki play works by Scarlatti, Leo, Mancini, among others.
The up-and-coming ensemble 4 Times Baroque will be making its debut at the Stockstadt Recorder Festival, turning the Sunday morning into an exciting Baroque celebration. The four young men from Frankfurt have enjoyed many successes since their founding, including winning the OPUS Award for Young Artist of the Year 2018. The French influence on the work of Georg Philipp Telemann and the instrumental works of Johann Sebastian Bach will be the theme of the Recorder Festival. Prepare to be amazed by what promises to be a colourful and thrilling performance by the young ensemble.
The project 'Eurovisionen' will once more see Dorothee Oberlinger (D), Michael Oman (A) and Maurice Steger (CH) perform together as the ensemble Eurowinds, presenting a baroque parade with music from England, France, Germany, Austria and Italy. The three recorder players will be performing with an equally international basso continuo group and will present music from the Eurovision countries. Some of the most beautiful melodies for three recorders, solo intermezzi for all six musicians and ensemble works come together to create a colourful explosion of baroque musical expression. Don't miss out on the final event of the 2020 Stockstadt Recorder Festival – it's going to be exhilarating!
I am extremely pleased to present some of the most interesting contemporary recorder players and ensembles and am excited to partake in the Stockstadt Recorder Festival alongside you; this wonderful event at which we all come together to celebrate, to exchange experiences and be inspired by the unique ambience, by sounds, beautiful instruments and valuable contacts.
Warm greetings to you all – see you in May.
Maurice Steger
***
Infos: https://blockfloetenfesttage.de/2020/?lang=en
***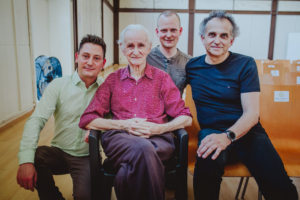 From the left: Maurice Steger, artistic director | Wilhelm Becker, founder and director for 32 years and grandson Daniel | Jo Kunath, organizational director
***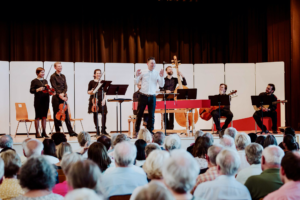 Organizer

Stockstadt am Rhein (DE), AltrheinhalleAltrheinhalle, Insel-Kühkopf-Straße 1, 64589 Stockstadt am Rheinwww.blockfloetenfesttage.de