mon20mayAll Daythu23GÖTTINGEN HÄNDEL COMPETITIONINTERNATIONAL COMPETITION FOR YOUNG ENSEMBLES @ Händel Festspiele GöttingenGöttingen (DE), Aula der Universität and other venues
Event Details
Welcome to the Göttingen Händel Competition!
For many young ensembles, the renowned and long-standing Göttingen Historical Music Series junior competition served as a platform and launchpad from which to step into the professional world of music.
The göttingen händel competition targets ensembles whose repertoire focuses on baroque music and historical performance practice. The competition forms part of the European 'eeemerging' project, which offers emerging ensembles first-rate working conditions and prepares them for the music market by organising workshops on programme design as well as management and marketing.
***
The members of the jury:
Maurice Steger | Recorder, Conductor & Professor Gstaad Baroque Acaemy
Kai Wessel | Countertenor and Professor for Voice and Historical Performance Practice at the Hochschule für Musik und Tanz Köln
Anne Röhrig | Professor of Baroque Violin at the Hochschule für Musik Nürnberg, Artistic Director of Hannoversche Hofkapelle
Gabriele Hertz-Eichenrode | Programme editor @ NDR Kultur
Angela Brünjes | Department Kultur, Göttinger Tageblatt
Tobias Wolff | Managing Director of the Göttingen International Handel Festival
***
The call for applications for the 2019 edition of the competition is now open! You'll find the Terms and Conditions as well as all forms and explanatory information about the entry application documents on the following sites.
***
Infos: https://www.haendel-competition.eu
***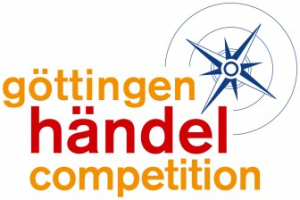 Contact: Joshua Weitzel | Phone : +49 (0)551 – 38 48 13 13 | Email: jweitzel@haendel-festspiele.de
https://www.haendel-competition.eu
Time

may 20 (Monday) - 23 (Thursday)
Location

Göttingen (DE), Aula der Universität and other venues

University of Göttingen, Wilhelmsplatz 1, 37073 Göttingen, Germany
Göttingen (DE), Aula der Universität and other venuesUniversity of Göttingen, Wilhelmsplatz 1, 37073 Göttingen, Germany