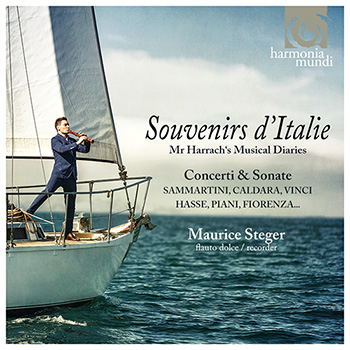 After almost three years of detective work, Maurice Steger presents some of the treasures he has discovered in the form of a new CD: Souvenirs d'Italie – Mr Harrach's Musical Diaries.

The Austrian Count von Harrach was a diplomat, statesman, the viceroy of Naples, and an enthusiastic collector of art. Yet he also loved music so much that he commissioned works from his friends and from renowned composers. We can assume that Harrach probably also played the recorder himself, as the recently-found manuscripts collected by and associated with Harrach contain a conspicuously great number of compositions for flauto dolce, ranging from sonatas and pieces of chamber music to concerti da camera and solo concerts – a new treasure trove!
Maurice Steger has been to investigate, and here presents a collection of works which Count Harrach collected during his travels in Italy and brought home with him as souvenirs – previously unheard music at first hand!
In the coming days, the new CD featuring works by Vinci, Leo, Caldara, Fiorenza, Sammartini, Colista, Sarro, Montanari and Piani will be available in all specialist music stores.
You can find out more in our boutique.