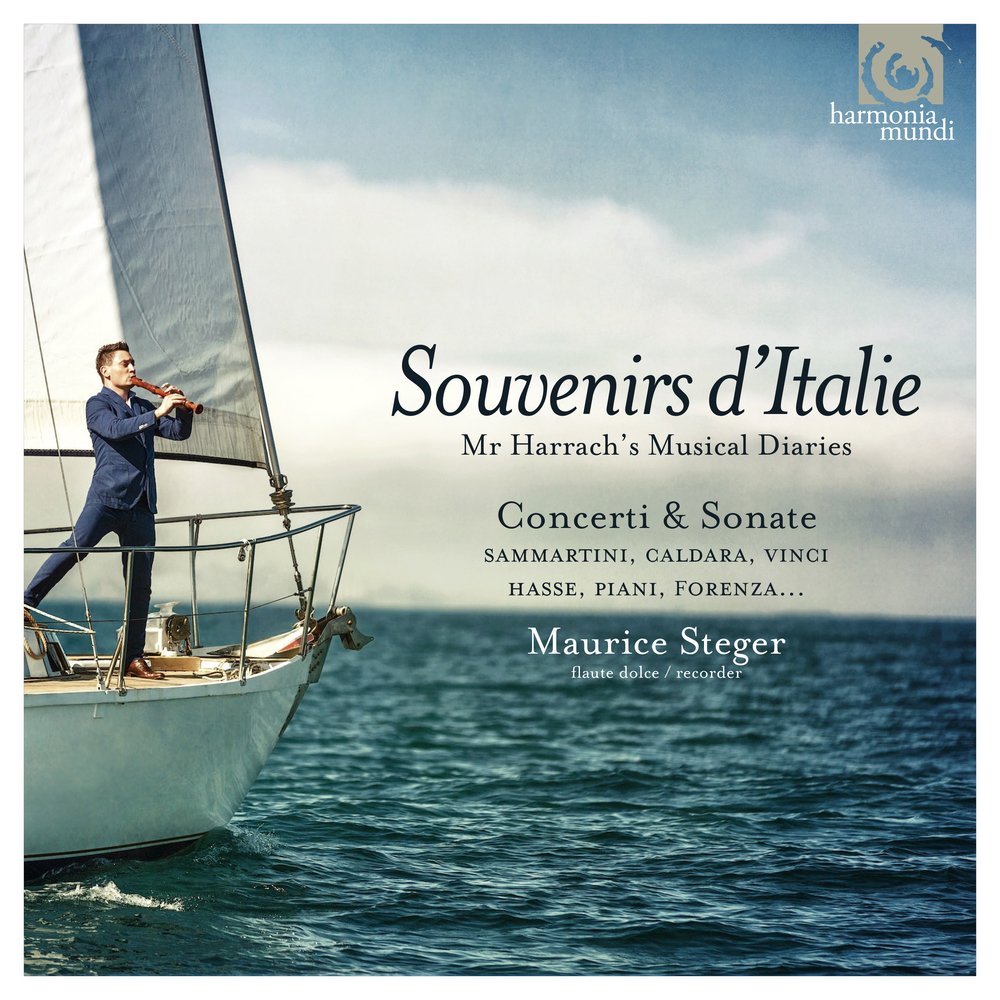 SOUVENIRS d'ITALIE

| | | |
| --- | --- | --- |
| | Giuseppe Sammartini (Milano 1695-1750 London) | |
| | Concerto per flautino in F Major | 12'58 |
| 1 | | Allegro | 3'49 |
| 2 | | Siciliana | 5'48 |
| 3 | | Allegro assai | 3'21 |
| | | |
| | Lelio Colista (Roma 1629-1680 Roma) | |
| 4 | | Sinfonia à 3 | |
| | | |
| | Giovanni Adolfo Hasse (Bergedorf 1699-1783 Venezia) | |
| | Cantata per flauto in B flat Major | 9'46 |
| 5 | | Allegro | 2'31 |
| 6 | | Adagio | 4'48 |
| 7 | | Allegro | 2'27 |
| | | |
| | Domenico Sarro (Trani 1679-1744 Napoli) | |
| | Concerto per flauto in d Minor | 7'30 |
| 8 | | Amoroso | 4'28 |
| 9 | | Adagio | 1'40 |
| 10 | | Allegro | 1'22 |
| | | |
| | Antonio Caldara (Venezia 1670-1736 Wien) | |
| 11 | | Chiacona à 3 | 4'49 |
| | | |
| | Leonardo Vinci (Strongoli 1690-1730 Napoli) | |
| | Ouverture from the opera Elpidia | 3'57 |
| 12 | | Allegro | 1'49 |
| 13 | | Adagio | 0'42 |
| 14 | | Allegro | 1'26 |
| | | |
| | A favourite Song for the flute, from the opera Elpidia | |
| | Tortora che il suo bene | 2'11 |
| 15 | | Larghetto | |
| | | |
| | Leonardo Leo (San Vito degli Schiavi 1694-1744 Napoli) | |
| 16 | | Toccata XIII per cembalo in C Majo | 1'10 |
| | | |
| | Nicola Fiorenza (Napoli nach 1700-1764 Napoli) | |
| | Sonata per flauto in a Minor | 6'50 |
| 17 | | Amoroso e Largo | 2'07 |
| 18 | | Allegro | 1'27 |
| 19 | | Largo | 2'15 |
| 20 | | Allegro | 1'01 |
| | | |
| | Antonio Maria Montanari (Modena 1676-1737 Roma) | |
| | Concerto per flautino in B flat Major | 7'35 |
| 21 | | Allegro | 2'20 |
| 22 | | Adagio | 3'11 |
| 23 | | Allegro | 2'04 |
| | | |
| | Giovanni Antonio Piani (Napoli 1678-1760 Wien) | |
| | Sonata IV in D Major | 10'20 |
| 24 | | Preludio. Grave, é affettuoso | 2'12 |
| 25 | | Corrente. Allegro, é spiccato | 1'52 |
| 26 | | Aria. Allegro | 0'42 |
| 27 | | Andante | 4'09 |
| 28 | | Allegro | 1'25 |
| | | |
| | | 72'39 |
| | | |
MAURICE STEGER
Flauto Dolce | Blockflöte | Flûte à bec & direction
| | |
| --- | --- |
| Nadja Zwiener | violin |
| Fiorenza de Donatis | violin |
| Jonas Zschenderlein | violin & viola |
| Katharina Heutjer | violin |
| Shai Kribus | oboe |
| Mauro Valli | cello & cello piccolo |
| Giulia Genini | bassoon |
| Vanni Moretto | double bass |
| Naoki Kitaya | harpsichord |
| Philippe Grisvard | harpsichord & organ |
| Gianluca Capuano | organ |
| Daniele Caminiti | theorbo |
| David Bergmüller | theorbo & guitar |
| Michele Pasotti | theorbo |
| Margit Übellacker | dulcimer |
Mr Harrach's Musical Diaries
Concerti & Sonate by Giuseppe Sammartini, Lelio Colista, Giovanni Adolfo Hasse, Domenico Sarro, Antonio Caldara, Leonardo Vinci, Leonardo Leo, Nicola Fiorenza, Antonio Maria Montanari, Giovanni Antonio Piani
The Austrian Count von Harrach was a diplomat, statesman, the viceroy of ­Naples, and an enthusiastic collector of art. Yet he also loved music so much that he commissioned works from his friends and from renowned composers.
We can assume that Harrach probably also played the recorder himself, as the recently found manuscripts ­collected by and ­associated with Harrach ­contain a conspicuously great number of ­compositions for flauto dolce, ranging from sonatas, pieces of chamber ­music, concerti da camera and solo concertos – a new treasure trove!
Maurice Steger has been to investigate, and here presents a collection of works which Count Harrach collected during his travels in Italy and brought home with him as souvenirs – previously ­unheard music at first hand!
RECORDING
April and May 2016, catholic church Seewen (SO), Switzerland
Sound engineer, producer and editor: Christian Sager (www.sagersounds.ch)Photos by Molina Visuals
© 2016 harmonia mundi