Maurice Steger headed to North America three times this winter, as well as pursuing his playing, teaching and conducting activities in Mexico and Canada.
Students and budding musicians at the National Autonomous University of Mexico in Mexico City (UNAM) were able to make fantastic progress during a project involving Bach cantatas. Maurice Steger was a guest professor alongside the country's recorder players. For a short excerpt from BWV 150 filmed during a choir practice by the Academia de Música Antigua Mexico City, click here:
Privacy notice: Clicking the play button establishes a connection to YouTube.
The recorder player made an appearance at the most prestigious festival in the country, Cervantino, performing concerts with the Mexican Baroque orchestra Antiqva Metropoli and the violin virtuosos Luca Giardini (Italy) & Juan Luis Matuz Garcia (Mexico), a name to remember. Emotions, musical joie de vivre and sensuality of sound came together to produce an unforgettable experience.
Together with Hille Perl (viol) and Diego Ares (harpsichord), Maurice Steger gave a guest performance at the Montreal Bach Festival (http://www.festivalbachmontreal.com). This wonderful event series presents not only the music of Bach, but also a number of fantastic artists who travel from all over the world to attend this great festival every year. The image shows artists during their rehearsal at the Bach House Montreal.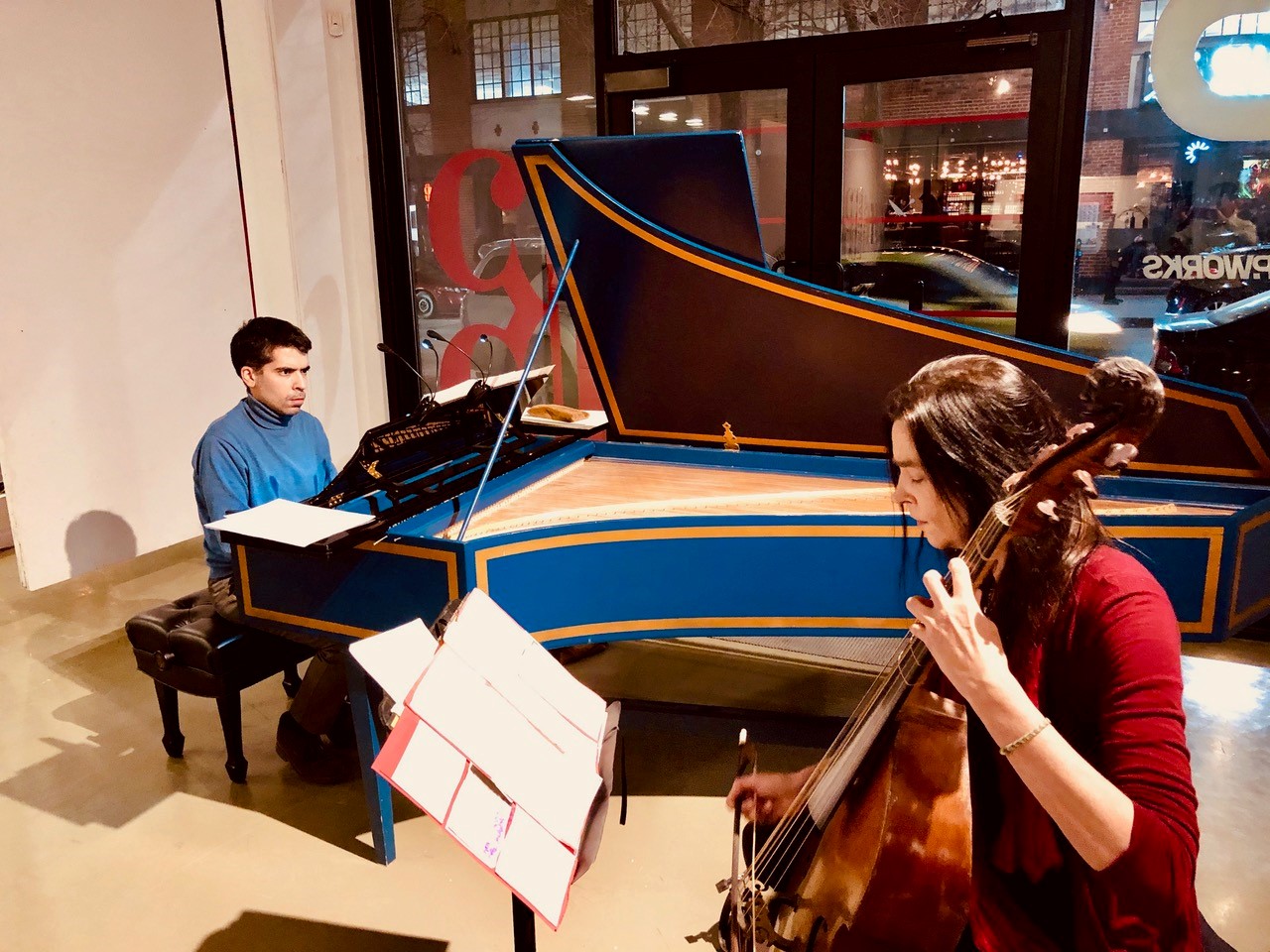 Once again, Maurice Steger spent two weeks in Canada in February. The programme included performances for children, including the musical fairy tale Tino Flautino and the tomcat Leo. This was the first time the artist had the pleasure of collaborating with the great comedian Renaud Paradis: both colourful and richly detailed – and adapted to the children and their habits – this children's musical at the Palais Montcalm was performed by the fantastic team made up of Steger, Paradis and Les Violons du Roy. https://www.facebook.com/palaismontcalm/photos/pcb.4123913164301679/4123904780969184/?type=3&theater
A programme featuring all things related to George Frideric Handel and his English circle was played four times in Montreal and Québec City, and the dream team consisting of Les Violons du Roy and Maurice Steger were extremely happy to be reunited. There is a harmony between the artists that is both palpable and audible – it is also unique. The performers were at the top of their game, inspiring and wonderfully versatile, allowing the audience to be immersed in an enchantingly beautiful musical landscape. A huge success and what is more: they produced a tender harmony that is affecting, tells stories and transports listeners to another world.
Read the review by Christophe Huss: https://www.ledevoir.com/culture/musique/573059/critique-concert
Back in his native Switzerland, Maurice Steger will perform at a benefit concert for victims of the Australian bushfires: https://artistsforaustralia.ch
A concert featuring Maurice Steger and harpsichordist Rudolf Lutz will take place in Winterthur on 27 February 2020. Get ready for a veritable fireworks show of sound by these two unique musicians. https://www.winterthurbarock.ch