Maurice Steger is currently on a tour de force and getting to perform in wonderful venues. Audiences were therefore delighted when he interpreted Italian works in Singen town hall together with the Italian theorbist Daniele Caminiti and the captivating harpsichordist Olga Watts. You can read a review in the Südkurier newspaper: http://www.suedkurier.de/region/kreis-konstanz/singen/Stadthalle-Singen-Bravour-Barock-im-Eiltempo;art372458,7815577
Leverkusen and Salzburg celebrated the coming-together of the two great recorder players Dorothee Oberlinger and Maurice Steger, both of whom delivered emotional and colourful musical performances, accompanied by Florian Birsak on harpsichord and Marco Testori on cello. A successful project! Read a review of the Salzburg performance: http://www.drehpunktkultur.at/index.php/musik/meldungen-kritiken/8513-wirklich-ein-blockfloetenfest
Spectacular! A wonderful tour was delivered by Maurice Steger, recorder and musical direction; Xenia Löffler, Baroque oboe and recorder; Nadja Zwiener, Baroque violin; Marco Postinghel, Barock bassoon, and Naoki Kitaya, harpsichord. Together, they celebrated the colourful 'Concerto a cinque' instrumentation in mid-May. Alongside Vivaldi, other composers to have scored for this colourful combination of instruments include Telemann, Fasch, Caldara and others. And these interpreters have savoured, celebrated, sung together and played together with captivating results – congratulations on their successes! Read the review of the concert held at the Göttingen Handel Festival: http://www.goettinger-tageblatt.de/Nachrichten/Kultur/Kultur-vor-Ort/Maurice-Steger-interpretiert-virtuose-Blockfloetenkonzerte-in-Goettingen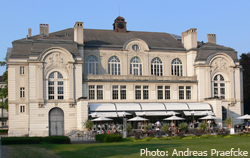 What a treat it was for everyone who attended the Tino Flautino children's concert in the beautiful St. Gallen Tonhalle on Mothers Day. Jolanda Steiner told the story of the recorder-playing prince in an exciting and child-friendly way, and Maurice Steger not only played Prince Tino but also conducted the St. Gallen Symphony orchestra in an atmospheric, precise and vibrantly expressive way: the sounds of spiritual old music from St. Gallen!